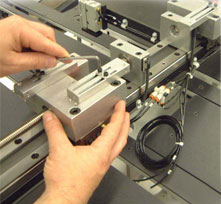 From sub-assemblies to finished machines, Multiline Technology provides quality that lasts!
Our 3D Solid Modeling network allows our Engineers to see how items fit before they are actually machined. This saves time in manufacturing while reducing rework, enhancing our overall engineering/ manufacturing capability. Cadkey Wireframe CAD systems on the network allow the department to simultaneously work on complex designs and assemblies, bringing the finished project to a successful close.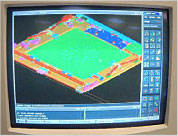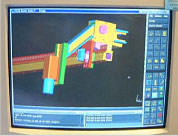 At Multiline Technology, our engineers are highly skilled in Mechanical, Electrical, Pneumatic, Hydraulic, and Software development disciplines. Teamed with our Tool & Die craftsmen and skilled assemblers, Multliline designs and builds custom one-off or production assembly equipment. Our experienced Engineering Department will design to your specifications and needs or simply present us with a problem and we will design and develop a turn-key solution. With our depth of knowledge in Contract Manufacturing, our engineers design with the end result in mind. This provides our customers with a quality engineered, economic approach to their manufacturing needs.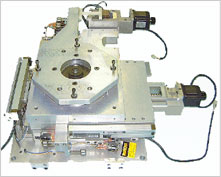 Multiline Technology is a manufacturing facility that handles precision machining of parts, also sub assemblies and complete machines. We have all precision machining capabilities in our Farmingdale, New York facility. Multiline maintains it's own internal Quality Control department that is traceable to NBS/NIST (National Bureau of Standards/National Institute of Standards and Technology.) We have capabilities and knowledge to machine a wide variety of materials, including; Inconel, Titanium, Carbide, Glass, Granite and all standard tool steels and alloys to an accuracy of .0001". We are certified in accordance with MIL- 5662A.
Our manufacturing capabilities include all facets of machine assembly including electrical, mechanical, hydraulic, pneumatic, vision systems, X-ray and software controland development. With our in-house Quality Control department, all incoming raw materials as well as in-process parts are continually being inspected for the highestaccuracy possible for the completion of thesub-assembly or final machine.
For all incoming and manufactured parts, Multiline has a comprehensive and complete Quality Control and Inspection Department with the latest state-of-the-art measurement capabilities.
Click on the images below for a larger view.

Multiline's engineers and craftsmen are ready to workwith you to supply parts, sub-assemblies, or completemachines and products. We offer productengineering, software development, and mechanicalknowledge based on over twenty years of experience.
Contact Multiline Technology for a consultation and to find out how we can help you with your contract manufacturing needs.
© 2011 Multiline Technology. All rights reserved.