An Easy and Quiet Pin Removal System from Multiline Technology

Multiline Technology's Hydraulic C Frame De-pinner

makes pin removal from multilayer lamination plates easier and quieter than ever before. The semi-automatic unit uses an energy-efficient, pneumatic-driven hydraulic pump to remove even the most unyielding pins, preventing damage to expensive lamination fixtures. The Hydraulic De-Pinner has been specifically designed for use in high-production manufacturing.
Method of Operation
The hydraulic cylinder works in conjunction with an air-actuated cylinder to provide two types of pressure. As the foot pedal on the unit is depressed, the air cylinder exerts a light pressure lowering the knockout pin for alignment with the lamination pin. This alignment procedure is aided by the maneuverability of the lamination package on a roller-ball table surface. When proper pin alignment is achieved, the foot pedal is again depressed to activate the hydraulic cylinder. Pressure from this cylinder causes the specially designed de-pinner head to index forward throughout he lamination package and drive out the tooling pin quietly and efficiently. The de-pinner head is encased in a sliding, double-support system. This unique tablescoping design, which supports the pin throughout its travel, prevents most pin bending or breakage common to conventional lamination plate de-pinning.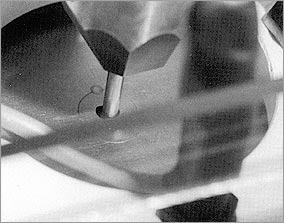 The unit includes a safety system with a guard and proximity sensors to prevent manual interference during operation. Also to insure safety and accelerate the de-pinning process, a foot pedal is used to operate the cylinders. This feature allows the operator to safely us both hands for efficient pin alignment. The Hydraulic C Frame De-Pinner is capable of handling lamination packages up to two inches thick with pin-to-edge distance of four inches or less. A chute and collection area gathers tooling pins as they are removed. The Hydraulic C Frame De-pinner comes complete with a knockout pin 0.015" under the size of the lamination pin used. Additional knockout pins are available.
To receive more information on the Hydraulic C Frame De-Pinner through e-mail contact Multiline Technology or fill out our Literature Request Form.



© 2011 Multiline Technology. All rights reserved.