Eliminate Misregistration During Lay-up of Multilayers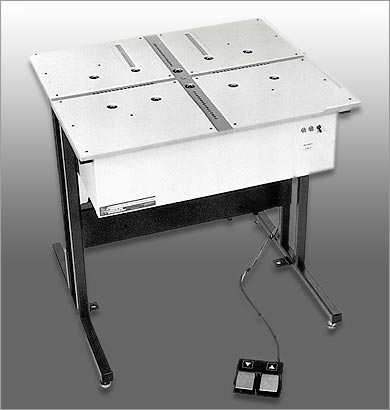 An important addition to any Multilayer Registration System, the Lamination Lay-up Station prevents misregistration due to improper lay-up of innerlayers and lamination fixtures.
In lay-up of thin materials on lamination pins, it is difficult to place material over the pins evenly. It is common for the operator to push the material down over a few pins on one side and pull the material over the other pins. This can result in tearing or buckling of the material (see diagram 1).
The Lamination Lay-up Station allows the operator to easily position the bottom plate of the lamination fixture over pre-tooled positions utilizing a retractable ball bearing transfer table. The pins are placed into the bottom plate and allowed to drop down until they protrude approximately 1/16 of an inch (see diagram 2).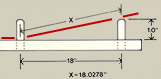 Diagram 1 If an innerlayer panel with tooling holes 18" apart is not placed evenly over lamination pins which are 18" apart and 1" high, misregistration of up to .028" can result.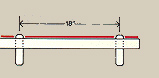 Diagram 2 The innerlayers are placed on the pins. This step is accomplished faster and with greater accuracy since only a short length of the pin is exposed above the lamination plate. When the stack-up approaches the top of the pins, the operator indexes the unit up (hydraulically) another 1/16 of an inch. A special feature provided on all units pushes the lamination pins halfway up into the bottom plate to help locate the top plate on the lamination pins.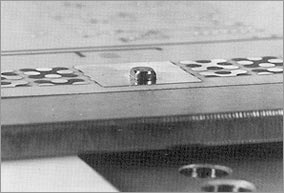 This unit is available on welded legs 34 to 36 inches high or without legs for placement in you multilayer production line.
Used in conjunction with the Lamination Plate Handler, lay-up is safer and more accurate. An aid to lamination and multilayer accuracy, the Lamination Lay-up Station is available for centerline or edge tooling configurations.
A new model is available which includes a laminar flow option and a built-in plate handler.
To receive more information on Multiline's Multilayer Layup Station through e-mail contact Multiline Technology or fill out our Literature Request Form.



© 2011 Multiline Technology. All rights reserved.