The Multiframe VA or "MVA" is a complete draw replacement frame with an integrated vision system. The MVA is built to the same exacting specifications as the standard Multiline GFT glass frames used by hundreds of circuit board manufactures, however the addition of vision alignment adds many benefits. The frame can be used for inner layer registration without the need for an artwork punch, since both the top and bottom film can be placed on the frame and aligned to each other without pins. It is also well suited to outer-layer and solder-mask applications where the panel is actually manipulated to the mounted artwork in the frame to align it to the drilled holes for outer layers or the target pads for solder mask.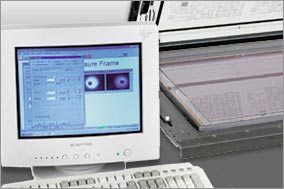 The Multiframe VA is retrofitable to most exposure machines, turning your old manual machine into a state of the art vision unit which would sell new for many times the price of the retrofit.
The MVA uses two CCD cameras to align on two or four targets. A best fit condition is determined and the panel is moved in relationship to the fixed artwork.


To receive more information on the Multiframe VA through e-mail contact Multiline Technology or fill out our Literature Request Form.



© 2011 Multiline Technology. All rights reserved.