The XRT™ line of x-ray machines from Multiline Technology uses a combination of X-Ray and vision technology to inspect panels after lamination and drill new registration holes for the drilling process based on the results. Variation from panel to panel can occur during lamination. Post-processing these panels in preparation for drilling requires X-raying and drilling new tooling holes in every panel based on the panel's individual registration characteristic. The result of this post-lamination optimization is faster setup, no program offsets, and increased throughputs on the drilling machines. Down time caused by set-up and optimization of drill programs to panels-to-be-drilled is virtually eliminated. In addition the machine can be used to analyze the shift of every single layer and use this information to adjust the artwork size for following jobs. The XRT™ line is a highly precisioned combination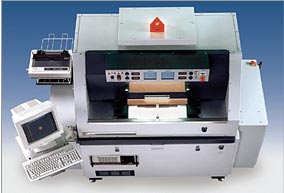 of tooling and x-ray vision which is essential to the high level of accuracy and repeatability of the system and an optional belt based unloading system.
In addition to the production aspects of the machine the XRT's all have the ability to inspect and measure layer to layer registration after lamination. This Layer Analysis Package (LAP) can measure shift of any layer to a reference and report this information in data or in graphics. LAP is a non destructive method of measuring a laminated panel without the need to drill the board or coupons on the board.
To optimize registration, measure and record the layer-to-layer shift, layer analysis cupons are required. The layer analysis coupon is made up of common targets and individual layer targets. The single (larger) target is common to every layer. When the package is laminated it is these stacked up targets that are used for optimization and drilling of the tooling holes. Layer analysis also requires specific targets. These LAP (layer analysis package) targets are specific to every inner layer and when laminated comprise a coupon which represents every layer. A measurement can be taken from each position in the coupon and the registration of all the layers to each other can be displayed.
This type of analysis offers a level of process control for the fabricator. Layer shifts which can be attributed to material growth or shrinkage, registration tooling issues, lay up problems or shifts during pressing can be identified and addressed. Trend analysis of each layer in the panel and how it relates to the same layer in all the other panels can be graphically displayed allowing changes to be made.
This layer analysis information can be presented in tabular form for each panel or in a few different graphic representations. In any case this information can now be used to determine out of spec cores, to do artwork scaling or drill scale factors before the panel is even put on the drilling machine.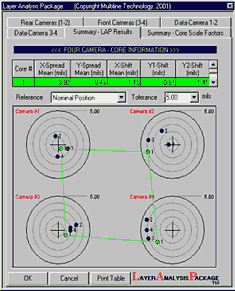 It is important to note that the collection of data from the X-ray machine is real time and immediate. Other post lamination registration checks rely on drilled and etched holes to measure the layer shift and ultimate registration. To collect relevant data from this type of test requires a large sampling to eliminate the effect of drill error on the results.
There is a need to go beyond Layer analysis, which identifies the shifts and changes from layer-to-layer in a package. Just as it is good to know the attributes of each layer with respect to other layers, it would be good to know the attributes of each composite multilayer assembly within a lot with respect to other layers and panels in the same lot (Run Analysis) or in similar lots made at different times, with different environmental factors or different materials (process related effects) (Statistical Process Control on the lamination process).
By Viewing the data in "Run Analysis" one can easily view the relationship of one layer to another over a period of time or a specific lot of panels.
It is also important to know the characteristics of each layer design with respect to time, environment and material differences. (Statistical Process Control on the manufacture of layers)
A combination of X-Ray Drilling and Inspection makes it possible to do it all:

Optimize a laminated panel for drilling or exposure

Analyze layer-to-layer fit of each panel

Analyze size differences from nominal of each layer

Analyze panel-to-panel deviations

Provide SPC data with which to guide decisions affecting process, material and environmental factors of manufacture

Provide data with which follow-on processes can be optimized to provide best-fit

Provide SPC data on lots to show effects of press parameters, pre-preg materials and other process related effects on dimensional integrity.
To determine which XRT X-Ray Tooling and Inspection System best fits your needs please select from one of the following models:
---

A two camera x-ray / drill with manual load and unload.

---

A four camera model which has cameras fixed in each corner quadrant of the panel.

---

A semi-automatic version of the XRT-1400 with x-ray pre-alignment and auto-unload.



---

Offers the high degree of accuracy and repeatability needed for a production x-ray drill with the added flexibility to perform many other functions. The machine utilizes two x-ray cameras to view two or more targets for panel alignment or data acquisition anywhere along two opposing edges of a Multilayer PCB panel.

To receive more information on the XRT™ X-ray Tooling and Inspection System through e-mail contact Multiline Technology or fill out our Literature Request Form.


© 2011 Multiline Technology. All rights reserved.