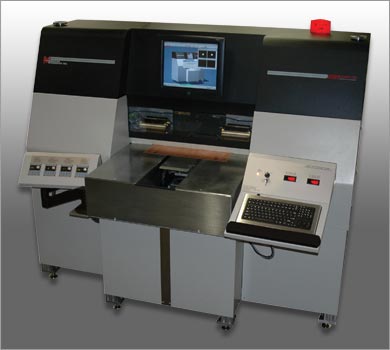 The XRT™ System 7000 offers the high degree of accuracy and repeatability needed for a production x-ray drill with the added flexibility to perform many other functions.
The machine utilizes two x-ray cameras to view two or more targets for panel alignment or data acquisition anywhere along two opposing edges of a Multilayer PCB panel. This provides the ability to view multiple targets or drill multiple holes along the edges of the panels.
This added flexibility also provides the ability to use many existing coupons for data collection of layer-to-layer registration relationships.
Features:
Fully programmable X motion for the two X-Ray/Drill Units and full Y motion for the panel

Can view targets and drill holes anywhere along the opposing edges of any multilayer board from 12" x 14" (305mm x 356mm) to 24" x 30" (609mm x 711mm)

Multiple Alignment routines are available with this flexible X-Ray tooling system

Selectable drill sizes: Four drill heads allow for two different drill sizes without drill change
The XRT™ System 7000 is designed to be used for:

Registration of high-layer count panels to drilling, routing or exposure processes.

Sequential lamination registration tasks.

Drilling corner target holes for registration to conventional or LDI exposure processes.

Registration tasks related to HDI, MCM or CSP manufacture.

Aligning multilayer panels to trimming and edge finishing processes.

Measuring and collecting data regarding overall registration accuracy and individual inner-layer growth or shrinkage and relationship to other layers.
To receive more information on the XRT™ System 7000 X-ray Tooling and Inspection System through e-mail contact Multiline Technology or fill out our Literature Request Form.


© 2011 Multiline Technology. All rights reserved.