Multilayer Registration Doesn't Have to Be Like Trying to Hit a Moving Target!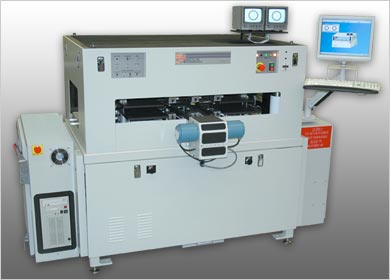 Optiline PE
- the first of a diverse line of Multiline post etch punches the OPE offers flexibility and dependability in a machine which has been proven in PCB facilities throughout the world. The OPE incorporates a very accurate precision ground and jig ground interchangeable punch and die system which allows adjustability from 10" x 12" ( mm) to 24" x 30" ( mm). Large format machines are available up to 30" x 54"( mm). This interchangeable punch and die construction provides an easy to maintain machine which limits down time during sharpening to minutes not days.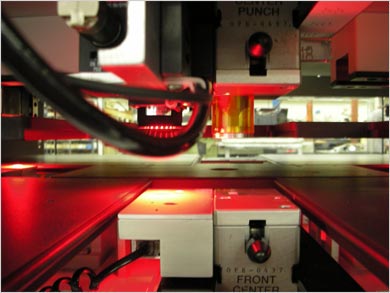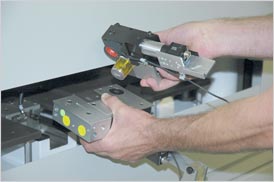 The OPE is available in many different tooling patterns from the Multiline standard 4 slot centerline to multiple positions of slots and holes. The machine can be run in production at speeds of 4-5 panels per minute. An optional unloader can be added to increase through put. The OPE can punch from 0.002" to 0.032" and with a change of punch and dies up to 0.062. Available in two camera,) four camera (2 top and 2 bottom or 4 top on X & Y centerline or 8 camera (4 top and 4 Bottom).
To receive more information on the Optiline PE through e-mail contact Multiline Technology or fill out our Literature Request Form.
© 2011 Multiline Technology. All rights reserved.